Site Map

Vintage Estate Antqiue Necklaces

Vintage Antique Estate Bracelets

Vintage Estate Antique Earrings

Vintage Estate Antique Jewelry Matching Sets

Vintage Bridal Wedding Jewelry

Vintage Fashion Accessories

Vintage Jewelry Gift Certificate

Vintage Costume Jewelry Search

Caring For Your Vintage Costume Antique Jewelry

Vintage Designer Jewelry Famous Designers

About Vintage Costume Jewelry Fashion Jewelry

About Appraising Vintage Costume Jewelry

Vintage Costume Jewelry Glossary

History Of Vintage Estate Antique Earrings

Vintage Costume Jewelry And Me

I Buy Vintage Estate Antique Jewelry

Annie Sherman Designer Jewelry Goes Hollywood

Vintage Costume Jewelry Customers Singing My Praises

Annie Sherman Vintage Jewelry Featured in InStyle Magazine

Happy Message To Vintage Costume Jewelry Customers

Silk Gift Pouches

Bridal Honeymoon Suite Hawaii Kona

How To Order

Shipping and Handling

Return Policy

Privacy Statement

Join My List

Contact Me

Advertising

Vendors

Home
ANNIE SHERMAN DESIGNER JEWELRY GOES HOLLYWOOD!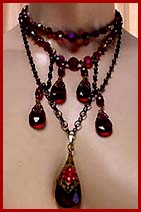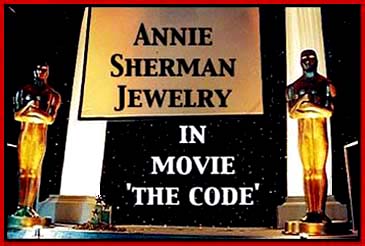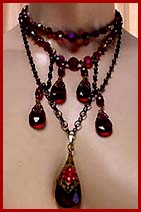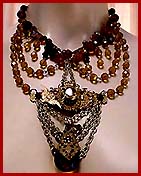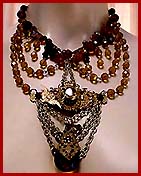 Starring Oscar Winner Morgan Freeman, Antonio Banderas, Radha Mitchell!





ANNIE SHERMAN DESIGNER JEWELRY IN MOVIE FOR THE STARS!
I am honored that the jewelry I designed is featured in the movie 'The Code'


Oscar winning star Morgan Freeman, Oscar attendee Antonio Banderas and Radha Mitchell are the lead characters of this caper drama. Freeman stars as a veteran thief who recruits a younger crook, played by Banderas, to help him pull off a final heist of stolen jewels from Russia.



Radha Mitchell is best known for her performances in High Art, Silent Hill, Finding Netherland, Men on Fire, Phone Booth, Pitch Black, and Woody Allen's Melinda and Melinda.

'The Code' is directed by Mimi Leder who has won two Emmys for directing and co-producing. Among her works were The Peacemaker starring George Clooney and Nicole Kidman, Deep Impact, Pay It Forward, etc.

The filming of 'The Code' began in mid October 2007 in New York and Bulgaria. It was released in 2008 and is now on DVD.



---
Signed Annie Sherman Russian Style Baroque White Faux Pearls Gold Filigree beads Crystal Bib Necklace
Featured In The Movie 'The Code'!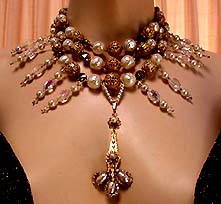 Among with the jewelry I loaned to the Wardrobe and Set Decoration Departments, this Russian antique style faux pearl crystal bib necklace I designed was chosen to be displayed prominently as the center piece in the movie 'The Code' in two gala scenes attended by jeweled guests.
Trailer film clip from the movie 'The Code'
---
JEWELRY DESIGNED BY ANNIE SHERMAN IN MOVIE 'THE CODE'

(May not copy, reproduce or modify without written permission. All rights reserved.)

Please click on the jewelry photos to view the enlarged photos and jewelry descriptions.






Please Click here to see more jewelry designed by Annie Sherman for filming 'The Code', as well as other jewelry designed by Annie Sherman now available for sale from this site!