Site Map

Vintage Estate Antqiue Necklaces

Vintage Antique Estate Bracelets

Vintage Estate Antique Earrings

Vintage Matching Sets (Parures)

Vintage Bridal Wedding Jewelry

Vintage Fashion Accessories

Vintage Jewelry Gift Certificate

Caring For Your Vintage Jewelry

Vintage Designer Jewelry Famous Designers

About Vintage Costume Jewelry Fashion Jewelry

About Appraising Vintage Costume Jewelry

Vintage Costume Jewelry Glossary

History Of Vintage Estate Antique Earrings

Vintage Costume Jewelry And Me

I Buy Vintage Estate Antique Jewelry

Annie Sherman Designer Jewelry Goes Hollywood

Vintage Costume Jewelry Customers Singing My Praises

Silk Gift Pouches

Bridal Honeymoon Suite Hawaii Kona

How To Order

Shipping and Handling

Return Policy

Privacy Statement

Join My List

Contact Me

Advertising

Vendors

Home
VINTAGE COSTUME JEWELRY AND ME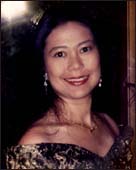 Aloha, Welcome To Annie Sherman Vintage Costume Jewelry Online Store!

I love vintage costume jewelry and designing jewelry! It is in my blood. I must admit, I'm addicted to it. So, you can imagine how much I enjoy my jewelry business. It is my baby that I will always love, care and nurture.

I live and breath jewelry all my life. Through my vintage costume jewelry business, I have been very fortunate to be associated with like-minded people who share my joy and passion. My hope is to continue bringing happiness to others who share my passion and be a worthy contributor to the vintage jewelry community. As Elizabeth Taylor once said: "Beautiful jewelry is to be loved and not possessed, for we are all temporary custodians of beauty ..."

I'm fascinated with the glamour, quality and inexpensiveness which vintage costume jewelry can offer. I also find the sentimental value attached to each piece invaluable. Behind every piece of vintage jewelry, there is a story. Each piece is unique and has been owned and loved by someone before us. It is special to the owner because it reminds her of a special someone or a memorable occasion. Vintage costume jewelry reflects the trends of the old days, as the designs are much influenced by the type of clothing worn and the material used at the time. Owning a piece of vintage jewelry is owning a piece of nostalgia.

My wonderful customers are avid vintage jewelry collectors, fashion designers who buy my jewelry to go with their designer gowns, models, singers, musicians, pageant contenders (including Miss Reno-Sparks 2009 - 3rd Runner Up to Miss Nevada 2009, Miss Dakota 2008 and Miss New York 2006!), brides, bridesmaids, women who adore beautiful jewelry and also thoughtful men who buy for their special ladies. Also, country singing legend Dolly Parton loves the beautiful vintage butterfly brooch purchased from me! What an ultimate honor!

I live in Kailua-Kona on the Big Island of Hawaii. The Big Island is famous for it's deep sea fishing, annual Triathlon, mac nuts and Kona coffee. I was educated in England and graduated from college there. I consider myself honest, ethical, very hardworking and conscientious, artistic, sociable, outgoing, friendly, happy and I don't smoke.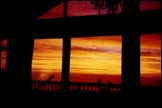 I run my jewelry business from my home which is located in a rural area on the side of a mountain (a dormant volcano for over 200 years, so they say...). The house has a fabulous coastline view from our wrap-around lanai (balcony) and year round gorgeous sunsets. It is at about 1,500 elevation so it is much cooler up here than downtown sea level. Those who have visited the Big Island know what I mean. Those who haven't yet, time to make a trip here!



Aside from my passion for vintage custome jewelry and designing jewelry, I also love animals! I'm blessed with three adorable kitties. I spoil my kitties rotten and they know it. They treat me like a maid. Big Baby, a 22 lb. brown tabby (used to be a stray hanging around our house), growls at me sometimes when I pet him just to remind me that he is the King. He sleeps on my pillow every night and purrs so I know he does love me. Mango (the rings around the ears kitty in the picture says "who needs mommy's earrings when you have these!") is half tabby and half Persian. He is just beautiful. I adore him so. He is soft, fuzzy, squeaks and sits for his food. I got him from a neighbor who could not take him with when they moved away. Snuggles is the oldest and the wisest. A very smart cat. I got him when he was only a few months old, a stray hanging around the neighorhood. I brought him all the way from Los Angeles when I moved to Hawaii 19 years ago. He endured the long plane ride and went through a three-month quarantine in Honolulu. He paid his dues.

Just a little about myself. If you have read this far, I thank you for your interest.

Warm regards,



Annie Sherman
Store Owner and Jewelry Designer
Annie Sherman Vintage Costume Jewelry

---
A Mother's Grief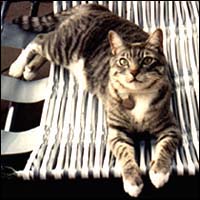 On May 19, 2003, at 10:35 pm. Hawaii time, my precious, beloved Snuggles passed away from kidney failure. He loved me more than anyone in the world. I loved him more than anyone will ever know. I will forever hold him in my hearts.

To my brave boy: "Now that your little spirit has flown to heaven where angels abound, your endearing presence can no longer be found. This eternal void shall never be filled by another kitty..." from mommy.