VINTAGE COSTUME ESTATE ANTIQUE JEWELRY MATCHING JEWELRY SETS PARURES
I sell Vintage Costume Estate Antique Jewelry Matching Sets Parures signed and unsigned. Please don't forget to also browse the necklaces, earrings, Bracelets, brooches and pins, bridal jewelry. All are high quality old antique estate collectibles - bakelite, Art Deco and beautiful vintage crystal rhinestone jewelry matching sets parures, Juliana jewelry matching sets parures and fruit salad jewelry matching sets parures. Signed Vintage Costume Estate Antique Designer Jewelry Matching Sets Parures include Weiss, Coro, Lisner, Miriam Haskell, Hobe, Trifari, Eisenberg and more. Circa 1920 through circa 1980. Read about the history of vintage estate antique earrings, vintage jewelry glossary and Annie Sherman Designer Jewelry Goes Hollywood. Not only are these collectible jewelry, they are beautiful wedding, bridal, bridesmaid, prom, pageant jewelry and fashion jewelry for parties, cruises and special functions! Every jewelry item comes with a lovely free Oriental silk jewelry pouch! Vintage Jewelry Gift Certificate. I Buy Vintage Estate Antique Jewelry. About Jewelry Appraisals. Vintage Fashion Accessories. Bridal Honeymoon Suite Hawaii Kona!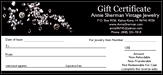 Jewelry Gift Certificates!

















Item #S16869
Hattie Carnegie Three Strand Amber Crystal Rhinestone Vintage Necklace And Clip Earrings Matching Jewelry Set - Parure.






Return To Previous Page


Item #S16869 - Hattie Carnegie Three Strand Amber Crystal Rhinestone Vintage Necklace And Clip Earrings Matching Jewelry Set - Parure.

Era: Circa 45.
Condition: Excellent Condition.
Flaw: None.
Size: Necklace: length - most inner strand 15 1/2" long + 5" extension (total length: 19"). Clip On Earrings - 1" in diameter.
Designer: Marked HATTIE CARNEGIE in script. The Hattie Carnegie Company operated between 1917 and 1970. Carnegie began designing jewelry to complement her dress designs which attracted the rich and famous. Her designs did not follow the trend of the time to simulate real jewels but instead showed tremendous originality.

This is a well-made and high quality Hattie Carnegie jewelry set. It features large round heavily faceted crystals, each has a small filigree cap on each end. The round faceted crystals have a lot of clarity and depth emitting a tremendous glow from within. Alternating the round crystal beads are rare elongated diamond-shape crystal beads that have very reflective Aurora Borealis coating. Typical of Hattie Carnegie jewelry which is never short of details, small florentined goldtone beads are strung in between each gorgeous crystal! The large crystal beads measure over 1/2" each. The elongated crystals measure almost an inch long! The middle strand is tightly strung diamond-shaped crystals which enhances the uniqueness of the piece. The round crystal clustered earrings complete this gorgeous Hattie Carnegie creation. A fabulous matching Jewelry set to wear at weddings, prom nights, pageants, parties, cruises and special functions! US$268.00. SOLD.

How to order:
Order by phone, please call me at (808) 990-7738. .


Order online (send payment via Paypal or charge to your credit card via Paypal).
Click on the PayPal logo to go to the order page. .
Then enter Item Number(s) and total price.
US$5.00 First Class Mail/Insurance Fee will automatically be added. No additional shipping fee for more items!
Overseas customers, please add an additional US$5.00 for Airmail or US$20.00 for Global Express Mail.


Order by personal check or money order, click here for details.


If you have any questions, click here to e-mail me or call me at (808) 990-7738.

---

Matching Jewelry Sets Parures Page 1, Page 2, Page 3, Page 4, Page 5, Page 6, Matching Jewelry Sets Parures - Sold |

Necklaces |

Earrings |

Bracelets |

Brooches |

Bridal Jewelry
---

















© 2011 Annie Sherman Vintage Jewelry. All information and pictures contained in this web site are protected by international copyright laws. All rights reserved.