VINTAGE COSTUME ANTIQUE ESTATE JEWELRY BROOCHES AND PINS
I sell VINTAGE COSTUME ANTIQUE ESTATE JEWELRY BROOCHES AND PINS signed and unsigned. Please don't forget to also browse the earrings, jewelry matching sets parures, bracelets, necklaces, BRIDAL WEDDING JEWELRY. All are high quality old antique estate collectibles - bakelite, Art Deco and beautiful vintage crystal rhinestone brooches and pins, Juliana brooches and pins and fruit salad brooches and pins. Signed vintage costume designer brooches and pins include Weiss, Coro, Lisner, Miriam Haskell, Hobe, Trifari, Eisenberg and more. Circa 1920 through circa 1980. Read about the history of vintage estate antique earrings, vintage jewelry glossary and Annie Sherman Designer Jewelry Goes Hollywood. Not only are these collectible jewelry, they are beautiful wedding, bridal, bridesmaid, prom, pageant jewelry and fashion jewelry for parties, cruises and special functions! Every jewelry item comes with a lovely free Oriental silk jewelry pouch! Vintage Jewelry Gift Certificate. I Buy Vintage Estate Antique Jewelry. About Jewelry Appraisals. Vintage Fashion Accessories. Bridal Honeymoon Suite Hawaii Kona!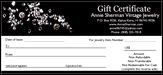 Jewelry Gift Certificates!



















Item #P168265
Unsigned Vendome Crystal Silvertone Vintage Antique Estate Large Dangle Brooch Pin - A Book Piece!





Return To Previous Page


Item #P168265 - Unsigned Vendome Crystal Silvertone Vintage Antique Estate Large Dangle Brooch Pin - A Book Piece!

Era: Circa 45.
Condition: Excellent Condition.
Flaw: None.
Size: Length: 3". Width: 2 1/2".
Designer: UNSIGNED VENDOME CRYSTAL BROOCH.

This unique exquisite large crystal dangle brooch is an unsigned Vendome book piece! The large crystal bells of this brooch are not just any crystals. They require expert skills and technique to create each one. Each bell measures 5/8" and there are 16 of them! Not only are they brilliantly faceted, the top of the bells have what looked to be a citrine colored crystal imbedded in them! The middle of the bells is sparkling clear and then towards the bottom the color interchanges from blue to smoky at the slightest quiver. So each bell has three colored layers (citrine, clear and smoky blue) and when the bells move slightly, you'll see a burst of gold, clear and smoky blue faceting glitter shimmering endlessly. More... the bottom of the bells is attached to a diamond-shaped glistening amber crystal to throw off even more gold sparkles. Also note that each crystal bell is suspended from a clear crystal flower which is riveted to a shiny diamond-shaped curved edged frame! This unsigned Vendome beautiful brooch is one of the gorgeous pieces chosen to be featured in a vintage custome jewelry book. Vendome is known for using beautiful high-quality crystals and this exquisite crystal brooch is the epidemy of just that. Ravishing indeed! Excellent condition. A fabulous brooch pin to wear at weddings, prom nights, pageants, parties, cruises and special functions! Price US$268.00. SOLD.

How to order:
Order by phone, please call me at (808) 990-7738. .


Order online (send payment via Paypal or charge to your credit card via Paypal).
Click on the PayPal logo to go to the order page. .
Then enter Item Number(s) and total price.
US$5.00 First Class Mail/Insurance Fee will automatically be added. No additional shipping fee for more items!
Overseas customers, please add an additional US$5.00 for Airmail or US$20.00 for Global Express Mail.


Order by personal check or money order, click here for details.


If you have any questions, click here to e-mail me or call me at (808) 990-7738.

Brooches Page 1, Page 2, Page 3, Page 4, Page 5, Page 6, Page 7, Page 8, Page 9, Page 10, Page 11, Brooches - Sold, Necklaces, Earrings, Bracelets, matching jewelry sets (parures), BRIDAL WEDDING JEWELRY
---

















© 2011 Annie Sherman Vintage Jewelry. All information and pictures contained in this web site are protected by international copyright laws. All rights reserved.