VINTAGE COSTUME ANTIQUE ESTATE JEWELRY BRACELETS
I sell VINTAGE COSTUME ANTIQUE ESTATE JEWELRY BRACELETS signed and unsigned. Please don't forget to also browse the necklaces, earrings, Matching Jewelry Sets (Parures), brooches and pins, BRIDAL WEDDING JEWELRY. All are high quality old antique estate collectibles - bakelite, Art Deco and beautiful vintage crystal rhinestone bracelets, Juliana bracelets and fruit salad bracelets. Signed vintage costume antique estate designer bracelets include Weiss, Coro, Lisner, Miriam Haskell, Hobe, Trifari, Eisenberg and more. Circa 1920 through circa 1980. Read about the history of vintage estate antique earrings, vintage jewelry glossary and Annie Sherman Designer Jewelry Goes Hollywood. Not only are these collectible jewelry, they are beautiful wedding, bridal, bridesmaid, prom, pageant jewelry and fashion jewelry for parties, cruises and special functions! Every jewelry item comes with a lovely free Oriental silk jewelry pouch! Vintage Jewelry Gift Certificate. I Buy Vintage Estate Antique Jewelry. About Jewelry Appraisals. Vintage Fashion Accessories. Bridal Honeymoon Suite Hawaii Kona!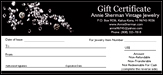 Jewelry Gift Certificates!
















---

Want to see what Vintage Antique Estate Bracelets have been sold in my vintage jewelry website in the past months and for what prices? Please click on the links below:

Vintage Antique Estate Bracelets - Sold - Page 1
Vintage Antique Estate Bracelets - Sold - Page 2
Vintage Antique Estate Bracelets - Sold - Page 3
Vintage Antique Estate Bracelets - Sold - Page 4
Vintage Antique Estate Bracelets - Sold - Page 5
Vintage Antique Estate Bracelets - Sold - Page 6
Vintage Antique Estate Bracelets - Sold - Page 7
Vintage Antique Estate Bracelets - Sold - Page 8
Vintage Antique Estate Bracelets - Sold - Page 9
Vintage Antique Estate Bracelets - Sold - Page 10
Vintage Antique Estate Bracelets - Sold - Page 11
Vintage Antique Estate Bracelets - Sold - Page 12
Vintage Antique Estate Bracelets - Sold - Page 13
Vintage Antique Estate Bracelets - Sold - Page 14
Vintage Antique Estate Bracelets - Sold - Page 15
Vintage Antique Estate Bracelets - Sold - Page 16
Vintage Antique Estate Bracelets - Sold - Page 17

To view the vintage jewelry still available for sale, please click on the links below:



Bracelets Page 1, Page 2, Page 3, Page 4, Page 5, Page 6, Page 7, Page 6, Earrings, Matching Jewelry Sets (Parures), Necklaces, Brooches, BRIDAL WEDDING JEWELRY



---